What is Shared Services
In most widespread organizations, transaction processing and other support services are carried out from a number of different locations, each of which performs the work in its own way. This trend gets magnified when companies grow through acquisitions.
There are clear tangible & intangible benefits to taking out the lower value transaction processing common to (or shared by) these disparate sites and bringing it together at one site, be it as a shared service center or outsourcing or some mix of both.
Shared services is the consolidation of business operations that are used by same processes of multiple locations/geographies. Processes are standardized, the people and technology are relocated to agreed site(s) and the work is reengineered to bring it to best in class standards.
Shared services turn-out cost-efficient because they centralize back-office operations that are used by multiple divisions/processes of the same/similar company and eliminate redundancy. Some companies use a chargeback system to bill divisions that use the service on a per-use, per-quarter or per-year basis.  Other companies absorb the cost of shared services as part of the continuing cost of running the business. Today, most companies employ a shared services model for finance and accounts (F&A), human resources management (HRM) and information technology (IT).
The goal of a shared services delivery model is to allow each business division to focus its limited resources on activities that support the division's business goals. Technology has often been the driver for shared services within an organization because it can be expensive to purchase, maintain and train employees to use.  Back in the 1920s, for example, an Underwood typewriter cost $100 and typists were highly trained employees.  Instead of having each business division within the company hire its own typists, a centralized department for typists was seen as being more cost-efficient and the typing pool was born.  Today, a typing pool would be called a shared service center (SSC).
Who could benefit from Shared Services?
Characteristics of an organization that would benefit from shared services include:
Multiple, dispersed locations
Unnecessary local administrative presence
Non-standardized processes
Duplication of work across sites
Manual Documentation flow – including approvals
Incompatible information systems between locations
Limited access to enabling technology
Sites that do not share best practices
Development of local or temporary solutions at each site
Rising support costs
Sites that struggle with their service levels
Companies with these characteristics find that the real costs of providing internal support services are not visible or under control, quality is not appropriately measured and internal customer expectations are neither known nor met.
How Shared Services help an organisation?
Increased efficiency
Best practice processes – Leverage on Best practices and benchmarks to drive optimization
Economies of scale – Service costs decline with increased volumes
Greater span of control – Centralisation and Consolidation enables to enhance control
Get the most from investment in technology – High volume Transactional processes which tend to put in Shared Services can leverage on technology to optimise cost
Standardization – Centralised processes can be standardised and non-value added tasks removed
Process Reengineering
Increased effectiveness
Service level agreements (SLAs) and service costing – Key Performance Indicators & SLAs help in driving desired business outcomes and reduce service cost
Enhance customer service focus – assessment of service levels by External and Internal stakeholders provides a continuous improvement in service levels
Make the most of specialist skills – Presence of subject matter expertise and documentation of process knowledge enhances overall knowledge base
Management gets time to focus on core business – Transactional processes and their exceptions get handled by shared services
Improved decision support – Exceptions are clearly mapped out and laid out in well documented operating procedures thereby providing prompt actions to be taken
Improved control environment – Automated controls through Technology and supervision oversight strengthens the processes
F&A Shared Services
Financial shared services have come a long way since they started gaining popularity in the 1990s. Seen as a way to leverage economies of scale for large organizations, shared services centers, or SSCs, made it possible for the organisations to transfer basic accounting processes like accounts payable, accounts receivables and general accounting.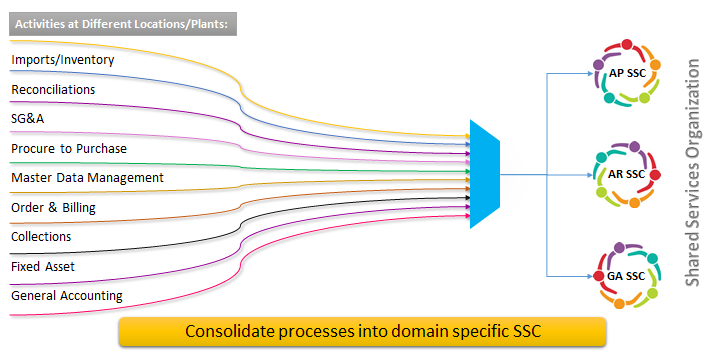 In the decades that followed, SSCs proved their value, especially for global enterprises that could benefit from the consolidation of services and standardization of their transactional accounting practices.
Today, it is estimated that 80 percent of Fortune 500 companies have implemented some type of shared services model. But as they grow in maturity, it has also become clear that not all SSCs are alike, and many subpar examples may even do far less to boost efficiency than hoped.
In a recent report, The Hackett Group found that best-in-class shared services organizations drew 43 percent lower finance and accounting costs than their average-performing counterparts.
At a high level, the benefits of implementing a financial shared services model are compelling. They offer an ability to consolidate and standardize processes and a greater flexibility for adding new business units or expanding into new markets. They also free up an organization's core F&A operation to concentrate more fully on adding strategic business value through financial analysis and planning.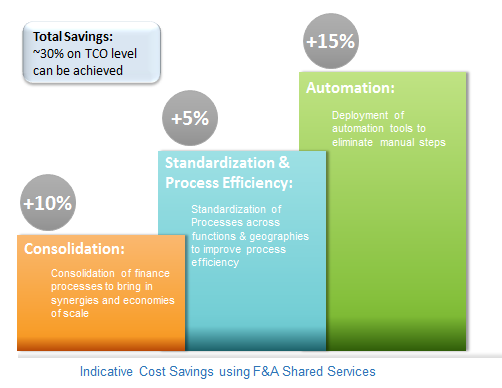 A Survey by Deloitte, published in 2017, shows that Finance & Accounts will lead the way to being operated from Shared Services environment, followed by Human Resources. Figure below is the exact extract from the report.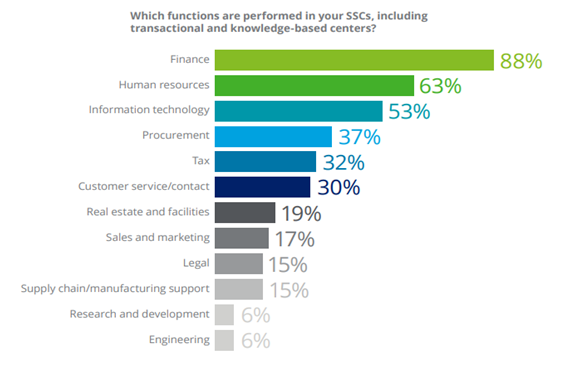 About Mynd Integrated Solutions –
Mynd Integrated Solutions is one of the leading global Business Process Management (BPM) services providers, primarily into four different business verticals which are Finance and Accounting Outsourcing (FAO), Human Resource Outsourcing (HRO), Customer/Document Management Services and Consultancy. Having started in the year 1997 with a small team of five people in Delhi, the organization has grown multifold and today, after over a decade we are a family of 1200+ people having a PAN India presence in more than 40 cities with regional offices in Delhi NCR (comprising of centrally located state of the art back end processing facilities in Gurgaon), Mumbai, Bangalore and Chennai and international offices in Singapore and Dubai catering to the APAC and Middle-eastern regions respectively.
In response to corporate's demand for a Mynd who could help with back-end services in Finance and HR, Mynd evolved into a business process management company, specializing in technology enablement around Finance & Accounting and HR operations coupled with customized services delivery suited for global business environment.
Our turnover today exceeds INR 1.3 billion and our client base covers global leaders in the telecom, automotive, retail, information technology and manufacturing industries as well as Government in some cases.
Mynd offers a wide range of specialized, multidisciplinary professional services within its core domains of service, and those that meet the immediate as well as long term needs of a business. Mynd collaborates with each client to deliver customized outsourcing solutions that range in complexity from individual transaction-based functions to highly scaled-up operations. In this endeavor, our core competencies in platform-based services offering and ability to leverage relevant professional expertise and resources, strengthens our domain expertise and gives us a leading edge over our competitors.
Our multi-disciplinary team of professionals comprising of Chartered Accountants, MBAs, Company Secretaries and Cost Accountants, are well  equipped with the requisite business and technical skills, experience and knowledge in order to deliver relevant and cost-effective solutions to our clients across industries. Our professional expertise gives us the edge to develop and maintain a high level of competitive advantage and sustainable value adds for our clients.
Mynd operates on a SaaS (Software as a Service) model of service delivery thereby reducing the OPEX and completely removing any CAPEX for the client. Our superior efficiency and performance has helped us position ourselves as strong competitors to large ERP platform companies and international service companies alike.
Having already achieved the pinnacles of process and quality credentials (through ISO 27001:2013, SSAE 16/ISAE 3402 controls and Six Sigma), Mynd's vision is focused on attaining leadership in the areas of Business, Customer and People.
Mynd's Success Stories of Shared Services –
Case Study 1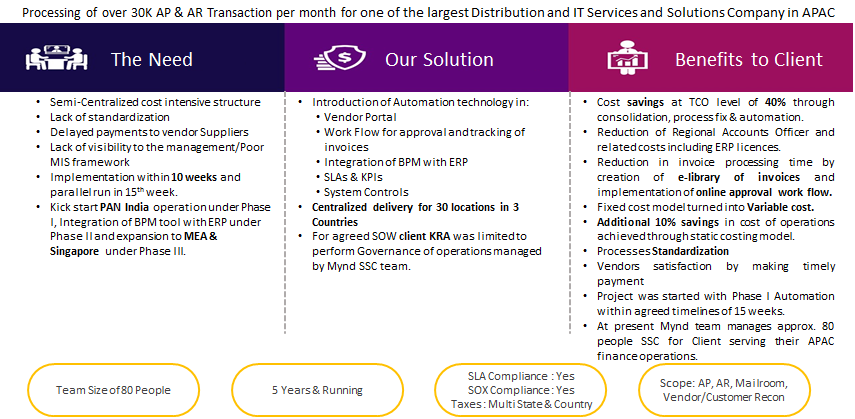 Case Study 2